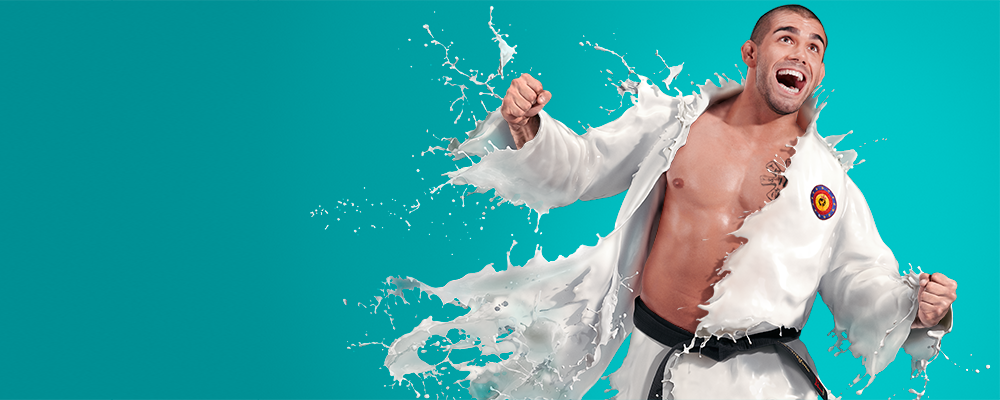 A positive policy.
In Wallonia, the Minister of Sports is also the Minister of Agriculture (not to mention the Minister of Forests, Nature, Rural Affairs and Tourism). With this impressive range of responsibilities, the Minister, who says he is "obsessed by synergies", is suggesting cross-sector strategies that truly are positive.
Here's an excellent one: Minister René Collin invited two brilliant Belgian medal-winners – the athlete Nafissatou Thiam, (heptathlon winner) and judoka Toma Nikiforov (silver medal at the world championships) – to defend the colours of Walloon milk.
Milk and sport: a perfect match.
The idea completely makes sense. Milk turns out to be amazingly suited to sports recovery, as several studies have shown. Milk naturally contains 3 to 8% fast proteins (lactoserum) and slow proteins (casein), and 90% water, together with minerals and vitamins. These factors actually make it a higher performance solution than protein powders, not just in terms of price but also in terms of storage and ease of use.
To make the campaign a reality, the Walloon Agency for the Promotion of Quality in Agriculture (APAQ-W) asked a selection of advertising agencies to take part in a competition. Mission-Systole emerged as the victor thanks to its unique approach: the two sporting personalities, draped in clothes made of milk, strike a powerful, Olympic pose.
Work, fun, results.
Working with sportspeople of this level was loads of fun and Nafi and Toma were more than up for it. The studio reverberated to Toma's YES! of victory, and we were slightly relieved not to find Nafi's javelin half embedded in a wall. With champions like these two, precision of movement, self-discipline and modesty cannot but earn your admiration. The photography was done by Jean-Pierre van der Elst, selected for his proven experience in providing stunning portrait work that has tons of dynamism.
The job of creating the clothes made of milk was entrusted to Nozon, a special FX studio with many awards to its name. Fluent in the simulation of fluids, they recreated all the clothing in milk while taking account of lighting, movement and the dynamic stance of the two sports champs. The work was long and intricate, but it culminated in a visual that is truly striking, somewhere halfway between photorealism and a superhero that Marvel Inc. would be proud of.
And the end result? Work done with care always gets results. The campaign has been featured in the press and is proving a real popular favourite: the agency has answered multiple calls from people wanting to get their hands on posters, and that's actually the best reward of all.
On that note, you can still get one of the few remaining posters here.